Changes in education, along with the increasing popularity of non-traditional programs, have led future educators to wonder what is the best degree for teaching online classes. The type of degree required to teach online courses is dependent on the grade or level at which an educator is interested in leading a classroom.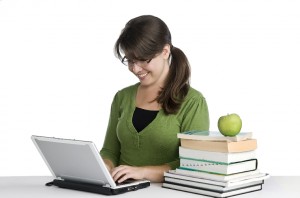 K through 12 Online Teachers
Current trends show the increasing popularity of students from kindergarten through high school evaluating enrollment in a public or private online education system. These programs include live and interactive instruction, between teachers and students, designed for children to complete at home. To be an educator with one of these school system models, a teacher is required to hold the same degree as teachers in a traditional classroom setting. This most often is achieved by completing a bachelor's degree in education with a specialization in elementary or secondary education. High school teachers also complete major and minor course work, such as mathematics or science, in order to be highly qualified to teach in a subject area.
Post-secondary Instructors
Many community colleges and most universities offer, or are beginning to offer, online course work in order to complete a degree. In some cases, entire degree programs can be completed online. To teach at the community college level, instructors are most often required to have a minimum of a bachelor's degree in a subject specific area, although a master's degree is most often preferred. To teach at a college or university that awards bachelor degrees, the typical requirement is for instructors to have a minimum of a master's degree in the subject they wish to teach.
Instructors for Graduate Degree Programs
Like undergraduate degree programs, instructors teaching courses for students pursuing a master's degree are most often required to hold one degree higher. Most instructors looking to teach online master's degree courses, therefore, will be required to have a doctorate degree. For doctorate instructors, a minimum of one Ph.D. and extensive teaching experience are the typical necessary qualifications.
Professional Development and Certifications
While it is necessary to begin a teaching career with a bachelors degree, additional requirements are likely to be included when looking to teach outside of the traditional classroom setting. There are a number of professional development programs available for prospective teachers and college faculty which provide additional teaching methods focused on the online learning environment. Some of these programs even offer online teaching certification.  In addition to external programs, many elementary and secondary school systems, colleges, and universities offer in-house training for faculty.
Topics often included in these professional development and certification programs include online classroom engagement, student retention, and giving feedback in the online classroom. The National Education Association has developed a "Guide to Teaching Online Courses" which provides information on how to develop and effective online learning environment.
As online classrooms and degree programs continue to gain demand, more and more teachers will be working in the online environment to make a difference in the lives of students of all ages. The required degree for teaching online courses follows closely with the requirements for teaching in a traditional classroom.  Knowing this, future educators can become well-prepared and qualified to begin leading online classrooms from kindergarten through the Ph.D.
Related Resource:  What are the Prerequisites for Admission to a Teaching Program?