International teaching programs let teachers from other countries bring their talents and share their experience with others, but it's not as easy to teach in international schools as you might think. International schools educate students from different backgrounds and countries and are often home to the children of famous people and politicians. These schools look at the experience level that you have and other factors before accepting you as a teacher. It's important that you look at all the requirements of the job before applying.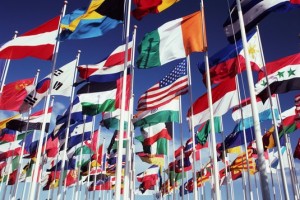 Minimum College Degree
Teachers working in international schools must have a minimum of a bachelor's degree in a specific field. According to The International Educator, those working at the elementary school level need a degree in education or a similar topic and those teaching older students need a degree in a specific subject. Schools may hire high school teachers who have a degree in math, history or another subject rather than an education degree. Some schools that are more selective may even require that you have a master's degree in your field.
Strong Grasp of the English Language
Many people assume that those who teach in international schools are bilingual and capable of conversing in two or more languages. A large number of these schools actually want teachers who can teach English to their students and give those students a better understanding of the language. Even if you never took a single foreign language class, you may still qualify for a teaching position. These schools want people who can fluently speak, write and read in English. Some schools will only hire native English speakers, while other schools may make non-native speakers take a test to prove they have a firm grasp on the language.
License and Experience
Working as a teacher in the United States requires a license that qualifies you to teach at the grade level you studied in college. Though the requirements for a license in your state might vary, you typically need to pass some type of criminal background check. You may also need to make a commitment that you'll go back to school and complete an advanced degree in education or take a licensing examination. International schools often require that teachers meet the same licensure requirements as in the US.  They also typically require a teacher has a minimum of two years teaching experience.
Ability to Commit to the Program
Those who do best in international education programs are those who feel confident living in a foreign country for an extended period of time. As an international teacher, you must agree to spend at least one school year in that country. At the end of your contract, the school can offer an extension and let you sign up for another school year or multiple years. Depending on the school and program you choose, the school may give arrange for housing or ask that you make those arrangements before you move abroad.
International schools have students from a wide range of countries studying under the same roof. These schools look for teachers with a strong grasp of the English language and those willing to spend at least one school year working for the school. Other requirements to teach in international schools include having a bachelor's degree, a teaching license and some teaching experience.
Related Resource:  What are the Requirements to Teach ESL?