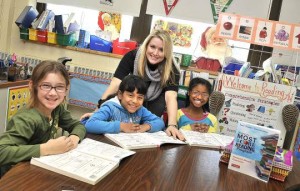 If you're considering your career options and are interested in the field of education, you may be curious about what it takes to become a reading specialist. Reading specialists are professional educators who specialize in helping students of all ages improve their reading comprehension. These experts utilize various methods to assess reading levels and develop strategies to meet the needs of individual learners, according to Literacy Coaching Clearinghouse. They have a number of additional job tasks and work in many settings. Read on to learn more about reading specialists.
Educational Requirements
Most employers will require a master's degree at minimum for reading specialist positions. In order to be accepted the the majority of graduate programs, you will need to have at least a bachelor's degree with a valid teaching certificate. In order to obtain the teaching certificate, you should major in education and complete a student teaching experience, as well as passing all standardized tests required for educators in your state. You can specialize in either elementary, secondary or special education. Other requirements vary by school and program.
Master's Degree Programs
Master's programs to become a reading specialist are usually comprised of core classes and electives. You can expect to take core classes regarding diagnostic methods and evaluation, methods in teaching reading and strategies for teaching struggling readers. Assessment of literacy, children's literature and adolescent lit could be topics of electives. You may also be able to choose an area of concentration like teaching reading to English as a second language learners or reading in diverse learning environments.
Reading Specialist Certification
Another route to becoming a specialist in reading is to obtain a certification in reading an literacy. This is a popular option for experienced teachers who currently hold a master's degree in an area other than specialization in reading. Courses offered in certificate programs are much like those in the master's program. You may also find coursework in literacy development, learning disabilities, reading strategies for adult learners and literacy research.
Career Paths for Reading Specialists
Reading specialists can assist students of all ages and abilities, from early childhood all the way through college. There are even professionals who work specifically with adults who struggle with literacy. The commonality between all of these is that reading specialists work with individuals to help them gain the reading skills they need in order to move forward in their educational and vocational pursuits. Reading specialists are also employed in such areas as curriculum development and research. They may design the methods and programs to assist students with reading delays or difficulties. Reading specialists are employed in schools, research institutions, government agencies and institutions of higher education, among others. There are many populations of people who require the particular knowledge of a reading specialist.
Related Resource: Emergency Teacher Certification
As you can see, there are a number of responsibilities involved with this kind of a position. If you enjoy teaching and analytical thinking, along with research, a career as a reading specialist may be something you should consider.