Reading the headlines about teaching may give the impression that demand for teachers is at an all-time low, with a highly competitive industry that makes it hard to break into classroom teaching across subjects and geographic areas. This just isn't the case, however. Teacher shortages are a real problem in many areas throughout the country, while subject area shortages affect schools in every community and every state. For aspiring educators who wish to graduate with a powerful degree that's marketable nationwide, it's worth considering the areas identified as suffering from a great shortage. The U.S. Department of Education maintains an up-to-date list of communities and positions that lack a sufficient number of educators to adequately serve students' unique needs.
Content Areas: STEM and Language Are Lacking in Educators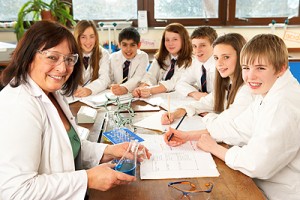 There has been a lot of buzz about the "STEM" fields in education, which focus on educating students in science, technology, engineering, and math. A teacher shortage in the STEM fields has been a top concern for federal education officials for at least the last decade, particularly in the area of advanced mathematics. In fact, to date, many states still lack official certification and hiring criteria for educators in technology-related subjects and engineering. As a result, the Department of Education has worked on an incentive program to encourage new teachers to study in these areas and seek a position teaching STEM subjects. This incentive program includes the potential for cancellation of a teacher's full student loan balance after several years of classroom experience.
Language instructors are also in short supply nationwide, with the Department of Education noting that Spanish instructors are particularly hard to find in adequate numbers. Like the STEM teacher shortage, the government has worked on an incentive program for language instructors that allows the full cancellation of their outstanding student loan debt if they accept a recognized language teaching program at schools that are suffering from the most dramatic shortage of professionals with this background.
Geographic Shortages: Fast-Growing States with a Need for Educators
All educators need to do is look at U.S. Census data from 2010 to see that there are some states where growth is far outpacing the national average. States like North Dakota have benefitted from a major oil boom in recent years, drawing tens of thousands of people to a state once known as being one of the smallest nationwide in terms of population. Northern Virginia and Maryland continue to grow as well, while population growth in Texas and California continues to occur at a rate that is faster than the national average. In almost all of these states, school districts are finding themselves with oversized classes and a shortage of highly qualified teaching applicants.
Due to a teacher shortage in states like Texas, North and South Dakota, Virginia and Maryland, educators will find that there are incentive programs designed to pique their interest. Many of these states now pay a premium for educators in fast-growing school districts, making it easier for educators to find a living wage and offset the high cost of their education degree.
Great Opportunities for Today's Educators
Though it might seem that today's educators face a distinct lack of job opportunities, the truth is that there are real shortages in specific content and geographic areas. In fact, these shortages are so significant that today's teachers can take advantage of high demand and enjoy cancellation of student debt or higher salaries as a result of working in each of these affected areas.
Related Resource: What is Emergency Teacher Certification?