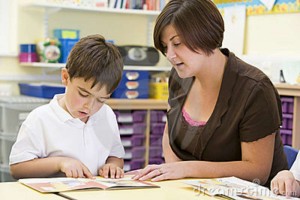 When you go to school to become a teacher, you can either pursue a general degree in teacher education or a more focused specialization. While there is a growing need for both general teachers and specialists in different areas of education, choosing to pursue a specialty can give you more of a purpose as a professional and can help you advance your career while increasing your lifetime earning potential. As you start to study for your advanced degree, it can be helpful to learn about the different education specializations that exist today. Read on, and find out more about the areas of study that you can choose from and what you will do as a professional when you complete formal education in a specialty area.
Specializations in Special Education
Special education programs are designed for students who are physically, socially, mentally or emotionally delayed. In order to cater to the unique needs and the challenges that a teacher can face while teaching developmentally delayed students, teachers need to complete specialized training. There are general studies in special education and then also specialized coursework that caters to a different demographic or condition.
The demand for special educators is projected to grow dramatically in the upcoming years. In fact, the Bureau of Labor Statistics predicts the field will grow by 35% in the next years, making specializations in Special Education a very smart investment. Some of the most popular specializations that you can pursue when you study for a Master's degree include: Early Childhood, Applied Behavior Analysis, Mild Disabilities, Moderate Disabilities and Severe Disabilities. Each program covers content on how to keep students with disabilities focused, engaged and encouraged so that they can develop and learn no matter what their diagnosis is.
Specializations in Early Childhood Education
Sometimes you just know what age group you want to teach, and if you are sure that you are ready to instruct a classroom of young pupils then a concentration in early childhood could be a good fit. This specialization will prepare you to deal with the critical issues that occur regarding the education of children from birth through kindergarten. You will cover theory, research perspectives and methodology focused on the early childhood concentration.
Specializing in Reading Instruction
Perhaps one of the biggest struggles that students have in elementary school is learning how to read. There are several different root causes that can lead to difficulties with things like phonics or comprehension. By specializing your degree in reading instruction, you will learn strategies in teaching reading to different age groups, how to diagnose students with reading struggles, and how to instruct students and assess their progress.
The type of concentration that you choose to pursue should be dependent on the demand in your area and what interests you. All teachers need to be patient, but you will need a different level of patience to work with developmentally delayed students or struggling readers. You should also consider the average salary of a specialist educator versus a general educator. Special educators average around $55,060 per year, but your actual salary is based on the region that you work in. Once you do all of the homework and even shadow specialists in the field, you will be able to truly decide what specialization in teacher education is right for you.